BREAMORE HALT AND THE BREAMORE RAILWAY WALK
Breamore, a small village south of Salisbury, is the sort of place that many people just drive through on their way to somewhere else. They are making a mistake however, as Breamore has a long history and many places to visit, including an Elizabethan Manor house, a long barrow known as The Giant's Grave, a Countryside Museum, a Medieval Mizmaze, and this hidden railway station.
Breamore has a lot to offer, and is the perfect place for the Slow Traveller to spend a day and avoid the crowds.
Closed since 1964, the Breamore Halt has been restored and forms part of the Railway Walk.
The Breamore Railway Walk runs between Burgate Cross and South Charford Crossing and follows the route of the old railway which once ran between the two places. It has only recently been opened up, with Hampshire County Council cutting back the overgrown vegetation, taking down barriers which prevented people from having access to the route and putting up signage for walkers.
It is a two mile stretch of straight path, neither end of which is particularly easy to find.
I would advise starting at the Burgate end of the path - if you have driven here then you will be able to find parking at that end. If you are taking the X3 bus, then there are bus stops at either end so you can start where you prefer. See end of article for detailed directions >>
The path is crossed by other public footpaths, so you could make it part of a longer walk or a circular route if you wanted; we just walked the linear route there and back from Burgate.
The start of the walk
Starting at Burgate Cross
If you have driven here, find parking on Fryern Ct Road. It is free, just make sure you leave enough room for other vehicles to pass your car.
The path is accessed from the other side of the A338 and as it is a busy road, it can be quite a challenge to cross it.
The path starts at w3w: leap.bluffs.unionists and there is a handy sign to show you the start. You go though the gate, cross a small bridge and turn left down the track.
No other directions are needed for this walk, as it is now just a straight line following that track.
At the start of the walk, the traffic noise from the A338 seems quite close, but you gradually move away from that as the gap between you and the road increases. You will walk past a rather lovely lake on your left, with a house on your right. They have stables, and if you are lucky you will see an incredible looking thoroughbred cantering around a field.
As the walk continues on, you pass a field of sheep on your left, who seem to be living in what looks like a farmyard equipment graveyard. It is not very beautiful, so look to your right instead where the views are lovely - water meadows as far as the eye can see.
After a while you come across the best surprise of the walk - the old railway station and platforms of Breamore Halt are still there.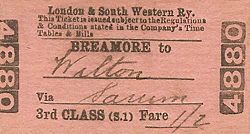 A ticket from Breamore Halt
Breamore Halt was a stop on the Salisbury & Dorset Junction Railway, built in 1866.
The Salisbury & Dorset Junction Railway was established to link Salisbury with Wimborne - 19 miles of single track which followed the River Avon on the western edge of the New Forest. The track started in Alderbury, just south of Salisbury, and went through Downton, Breamore, Fordingbridge, Daggons Road, Verwood, West Moors and then Wimborne. By 1883, the track was absorbed by the London & South Western Railway.
The line was used mainly by day-trippers heading to the coast, particularly at weekends, but traffic was always light. A 'Halt' differs to a station as a place where trains do not have to stop unless there are passengers waiting on the platform, or a passenger has told that guard that that is where they wish to get off.
Due to the light traffic, the station was never going to survive the sweeping Beeching cuts, and it closed for good on 4th May 1964.
Breamore Halt in 1959, 1964 and 1976. Photographs © Disused Stations
The station building became overgrown and dilapidated, although it remained free of vandalism, and you will see it now fully restored and in very good condition. The Station Master's house was demolished and new houses have been built as affordable housing for locals. They still have a railway cottage look about them and look like a lovely place to live, with their front doors opening on to views over the water meadows.
The walk takes you on the train track through the station and platform on the opposing side, and there is something rather special about walking on that soft grass on a place that was once filled with steam and noise, taking day-trippers for a day at the sea. You can also go and sit on a bench on the platform and wait for a train which will never come.
Nature is slowly reclaiming this crumbling platform
The walk continues on - under the railway bridge and back onto the narrow track.
You will pass remnants of the railway as you walk over small bridges which took the trains over the tributaries of the River Avon, the bricks now greening and softened with age and footsteps, the fences covered in brambles, as nature reclaims this once very industrial route.
Evidence of the old railway line is all around you on the walk
Nature is pervasive on this walk, whichever season you walk in. We walked in early March and the track was coming to life with catkins, pussy-willows, primroses and snowdrops. There are badger setts as you near the end of the route, rabbit warrens all around, and lots of small creatures scuttling away in the undergrowth as you approach.
The track passes more sheep and a field of (what we think) are beehives, until you reach the end at South Charford Crossing. You can continue on to make it a circular walk (details coming soon) or you can turn around and walk back to the start.
The South Charford Crossing end of the walk
The whole walk is exactly 2 miles each way and takes about 2 hours - or less if you don't stop to take hundreds of photos or hang out at the train station. You will need proper walking shoes as it can get muddy in places.
WALKING THE BREAMORE RAILWAY
How to get to the Breamore Railway Path


Burgate Cross Start:
Postcode: SP6 2LS
what3words: leap.bluffs.unionists
Public Transport: Catch the X3 bus from Salisbury or Bournemouth and get out at the Burgate Cross bus stop. Timetable >>
Parking: If you are driving, turn of the A338 and park in Fryern Ct Road.
South Charford Crossing start:
Postcode: SP6 2DN
what3words: tailed.stream.tripling
Public Transport: Catch the X3 bus from Salisbury or Bournemouth and get out at the South Charford Cross bus stop. Timetable >>
Parking: There is nowhere to really park at this end of the walk, so I advise starting at the Burgate end if you are driving here.
Are there any facilities at on the Breamore Railway Path?
There are no facilities en route, but a great place for refreshment is The Bat and Ball in Breamore - a popular local pub and easy to get to from the Breamore Halt station, it is just a couple of minutes walk away.
Useful tips for walking the Breamore Railway Path
Wear walking shoes or boots as it can get muddy.
Which is the nearest town to Breamore?
Salisbury is the nearest town which is good for visitors. See our Salisbury City Guide for details on how to get to Salisbury, locally owned accommodation, restaurants and shops, further places to visit and things to do.
Looking for more walks in Breamore? Try the Breamore Medieval Mizmaze Walk
Watch a Slow TV re-creation of a journey on this line -